morwong
member of the fish family Cheilodactylidae.
(source: Australian Museum)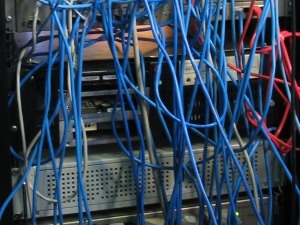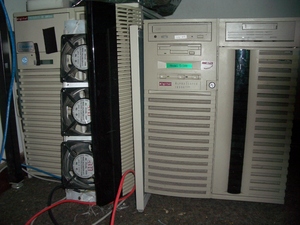 How and when machine obtained:
The original Morwong was bought in 1999 with money saved from Coke sales, and with member donations.
Morwong was upgraded in 2005 to a UP2000 dual Alpha 833HMz donated to us by Fugro Seismic Imaging here in Perth.
History prior to arrival at UCC:
The original Morwong was purchased second-hand from a private company, where it lived life as a server.
The new morwong was part of an 8 machine (16 CPU) cluster doing seismic anaylsis for FSI.
UCC history of machine:
Bought at the end of 1999/early 2000, with strong support from members who paid for 50% of the machine.
A DEC Prioris (pictured right) was cannibalised to add extra disk slots.
Successive powersupply deaths and faulty CPU logic caused Morwong to die in early 2005. Thankfully another Alpha, Piggery could be used with Morwong's disk array to keep services running.
Morwong was later replaced properly with a UP2000, dual Alpha 833MHz EV68, that was donated by FSI.
Current machine tasks:
General purpose user machine, NIS master.
Current software configuration:
Digital Unix (Tru64) 5.1B
Current hardware configuration:
2x 833MHz Alpha EV68 processors with 4MB cache
2GB RAM
2x SCSI disks (what size?)
Future plans for machine:
Retire as NIS master with the move to LDAP
Special notes:
The onboard Adaptec SCSI card in the UP2000 does not play nicely with Tru64 and needs to be disabled.
The SCSI card we're using is too tall for the case. To fasten the lid down to the case, some engineering was required with motherboard risers, washers and bolts.
Thanks:
All those that donated towards the first machine;
Fugro Seismic Imaging for their donation of the new machine;
PXY and TRS for getting the new machine working; and
Hewlett-Packard, who provided us with Tru64 licensing, gratis
Related sites: